Spacious apartment (95 m2). Layout 3 +1, two bathrooms, cellar with workroom, garden. Everything in the centre of České Budějovice!
Spacious apartment (95 m2). Layout 3 +1, two bathrooms, cellar with workroom, garden. Everything in the centre of České Budějovice!
Are you looking for a home in an amazing location, close to the city centre, yet in a quiet street that goes beyond current standards? Keep reading!

We just prepare an offer of a spacious apartment with a layout of 3+1 (living area 70.6 m2), which has a lot of benefits. Such as a spacious cellar with a workroom (24.6 m2) or a large garden intended only for house residents.
The apartment with huge potential has recently been very sensitively and practically renovated and at first, second and even third view it looks very homely.

In the entrance hall (7.9 m2) there is a plenty of storage space, entrance to the first bathroom with bath and toilet (3.8 m2), second bathroom with shower and toilet (3 m2), kitchen (11.9 m2), separate room (10.8 m2) and living room (21 m2), from which you enter the second separate room (10.4 m2) and storage room (1.8 m2). In the living room there is also a built-in wardrobe with a small library above.

It is beautifully lit, oriented to the east and south and located on the raised ground floor of the house. In the large garden you can relax, grow herbs, play with your children or just sit with your neighbours or friends.

Moreover, this remarkable apartment is located 10 minutes' walk from the main square, the park Na Sadech, public bus stops, library or Mariánská Gallery, where you can buy everything from groceries to a drugstore. Even the river or bike path are not far away. And you even won't hear the hustle and bustle of the city at all.

If you are interested in this extraordinary living, contact me at any of the listed contacts. I will be looking forward to seeing you personal.
Broker: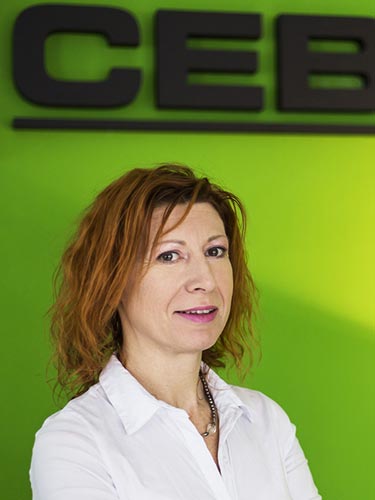 Mgr. Vanda Cirhanová
telefon: 723423123
v.cirhanova@cebras.cz
Type of property:
Flat
No. of real est.:
230904CIR
Type of flat:
3+1
Operation:
Sale
Property:
Osobní
Address:
České Budějovice
J. Š. Baara 1604/1

To move from:
1.10.2023
Floor area:
71 m2
Basement area:
24 m2
Storey:
1st floor
State of the object:
Velmi dobrý
Construction:
Cihlová
The location of the object:
Centrum obce
Communication:
Asphalt
The year of reconstruction:
2019
Equipment - description:
venkovní posezení, gril, pískoviště, trampolína, skluzavka, pevný sušák na prádlo, uzamykatelný přístřešek na kola...
Information from a broker:
Byt 3+1 s velkým potenciálem v úžasné lokalitě kousek od centra města. Vhodné pro pár i rodinu! Vše v dosahu! Jedinečná nabídka!
PENB:
PENB type:
Decree č. 148/2007 Sb.
It is shown that the GPS coordinates:
48° 58' 45.708"N, 14° 28' 31.119"E